Brow Products That Will Leave You Feeling Like a Boss
It's 2020 and brows are all the rage.  Whether you are going out for a night on the town, getting ready for a job interview, or running into the grocery store, a daring brow can oddly boost your confidence.  

The Science Behind Brows
First, you may be wondering why eyebrows are so important.  I mean, they're just eyebrows right? Wrong! Brows frame your face and accentuate your eyes.  They help portray your facial expressions and emotions. By filling in your brows, your eyes will appear lifted and awake.  It is a subtle way to look like you spent more time on your makeup than you actually did. Who knew that simply doing your brows could save you from being late to work after you slept through all three of your alarms?
Boss-Worthy Brow Products
1. Rapidlash Brow Enhancing Serum
Retail Price | $39.99  
Description | Rapidlash Brow Enhancing Serum helps to make brows thicker and more full.  If you struggle with sparse, patchy, or thin brows, you NEED this serum! In less than 60 days you will begin to see denser brows.
How It Works | By using key ingredients such as polypeptides, amino acids, biotin, keratin, and even apple fruit cell extract, your brows will be naturally strengthened.  Rapidlash provides your eyebrows with the protein and shine that they need to truly be a "boss brow".
How To Use | Apply this serum one to two times a day for best results.  Use the precise spooly applicator to sweep the product through, following your natural brow shape.  
2. e.l.f. Beautifully Bare Sheer Tint Brow Gel
Retail Price | $5 (holla for a dolla!!)
Shades | Clear, Light, Medium (pictured), and Dark
Description | e.l.f. Sheer Tint is great for those looking to dip their toes into the bold eyebrow trend.  Being a tint, this brow gel gives off a more sheer pigment. This provides the brows a natural, effortless, and soft looking shape.  If you tend to have eyebrows on the slightly wild side, this gel will hold your brows in place and tame those pesky little fly aways.  
How To Use | e.l.f. Beautifully Bare Sheer Tint Brow Gel can be used alone, or over a penciled in brow color as a finishing touch.   Using the applicator, simply start at the inner corner of your brow and apply upward/outward strokes, making sure to swipe through all the hairs.  Follow the natural arch of your brow, all the way down to the tail.  
***Pro Tip: Personally, I like to concentrate the pigment on the inner part of my brow, and lighten it up as I reach the tail.  I find using a spooly to brush through my brows helps to even out the appearance after the gel is applied. I have dirty blonde hair and use shade Medium. 
3. Benefit Gimme Brow + Volumizing Eyebrow Gel
Retail Price | $24 (full size), $12 (mini)
Shades | cool light blonde, warm golden blonde, neutral light brown, warm auburn brown, warm deep brown, natural  deep brown, warm black-brown, and cool black-brown
Description | Benefit Gimme Brow is not here to play around!  This gel is pigmented and here to make a statement.  consisting of mini micro-fibers, Gimme Brow builds and volumizes brows flawlessly.  This product works stunningly for those with very sparse brows, or those looking to go for a bit darker, fuller brow.  The buildable formula along with the precise spooly applicator makes this gel a dream to apply. Plus its sweat and waterproof; perfect for all-day wear!
How To Use | Using short motions, stroke the product through your brows, starting on the inside and moving outwards.  Build up product as desired for a fuller, darker brow.  
4. Fenty Beauty Brow MVP Ultra Fine Brow Pencil & Styler
Retail Price | $20
Shades | Light Blonde, Medium Blonde, Dark Ash Blonde, Soft Red, Auburn, True Red, Dark Auburn, Light Brown, Ash Brown, Medium Brown, Dark Brown, Black-Brown, Soft Black, and Deep Black
Description | If brow gel isn't your cup of tea, be sure to pick up this brow pencil.  With fourteen shades, you are bound to find one that matches your brows perfectly! The Fenty Brow MVP Pencil is long-lasting, waterproof, and smudge resistant.  This pencil also comes with a paddle brush on the end, built for blending and styling your brows with ease.  
How To Use | Choose a shade closest to your hair color.  Using short strokes, apply an outline along the outside of your eyebrows.  Then, fill in the rest. Finally, use the paddle brush to buff out any harsh lines and comb any stray hairs into place.  Now go out and show them who's boss with brows just like Rihanna!
5. Joah Brow Down To Me Brow Pencil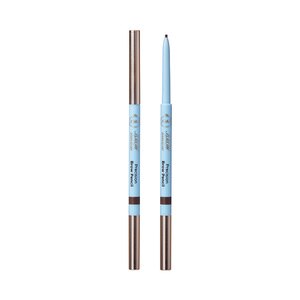 Retail Price | $9.50
Shades | Cool Blonde, Cool Taupe, Warm Medium Brown, Brunette, Black Brown, Ebony
Description | When it comes down to price, quality, and shade range in a brow pencil, it doesn't get much better than this Joah Brow Down To Me pencil.  If you are looking for something less expensive yet high quality, you are in luck. This budge-proof pencil comes in six shades. The ultra-fine tip allows for hair-like strokes while the spooly side can be used to master your brows into place.  Not to mention, the packaging is Tiffany Blue, and who doesn't LOVE Tiffany Blue?
How To Use | Pick a shade closest to your natural hair color.  Use the pencil to outline the top of your brow, and then the bottom.  Start filling in your brow beginning toward the center of your face, and then work out towards the tail, lightening your pressure as you go on. Lastly, use the spooly to even out the appearance.  
***Pro tip: when using a brow pencil I find it effective to start light and build up the product as I go.  Remember that it is always easier to add more product than to take product away!
6. Anastasia Beverly Hills Dipbrow Pomade
Retail Price | $21
Shades | Blonde, Taupe, Soft Brown, Medium Brown, Caramel, Auburn, Chocolate, Dark Brown, Ebony, Ash Brown, and Granite
Description | Anatasia Dipbrow is a full-pigment eyebrow pomade that is guaranteed to hold your brows in place all day.  Anastasia pomades go on creamy and smooth, allowing time for shaping, before drying down matte. This product is more geared towards those looking for a sharp clean brow; however, it can be blended out to form a natural-looking brow.  Whether you decide to build the product up or settle for a more delicate brow look, Anastasia Beverly Hills Dipbrow Pomade will keep your brows locked in place ALL day.
How To Use | Using an angled brush, dip into the pomade and outline your desired brow shape.  Make short hair-like strokes to fill in the remainder of your brow. To soften the look, brush through your brows with a spooly.  
***Use this Anastasia Beverly Hills Dual-Ended Firm Angled Brush made for applying the Dipbrow Pomade!
7. Maybelline Eyestudio Brow Define + Fill Duo
Retail Price | $7.99
Shades | Soft Brown, Blonde, Deep Brown, Auburn
Description | The Maybelline Eyestudio Brow Define + Fill Duo is fabulous for natural-looking brows.  The powder pencil creates a defined, feathered, and lighter look than a pomade or pencil. The unique sponge applicator fills and accentuates your natural brows evenly and with ease.  If you have blonde to light brown hair, this product is a must-have!   
How To Use | Brush through your brows with a spooly to find your desired brow shape.  Using the Brow Define + Fill Duo, outline and gently fill in the center of your brows.